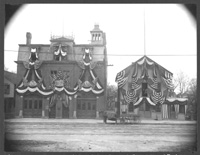 ---
Copyright © 2005 by Lawrence A. Ruttman. All rights reserved.
by Larry Ruttman
About the Book
---
Brookline citizens both world famous and locally beloved talk about their cherished Massachusetts town as it celebrates its 300th birthday this fall.
In Voices of Brookline Larry Ruttman gathers the entertaining, historical, and incisive testimony of seventy diverse Brookline citizens and weaves it into a rich oral history. The result is a colorful portrait of a town deeply committed to all that America strives for: multicultural harmony, excellence in public education, the democratic ideals inherent in Brookline's spirited Town Meeting, economic prosperity, and historic and environmental preservation.
Voices of Brookline is itself a beautiful exercise in democracy. Here are the voices of famous authors, single moms, Red Sox fans, celebrated musicians, Holocaust survivors, a distinguished conductor, a world class chef, high school kids, renowned politicians, the chief of police, octogenarian jazz performers, pioneering entrepreneurs, nationally celebrated TV journalists, and many more.
Mike Wallace recalls his childhood at the Edward Devotion School and Brookline High, Jane Holtz Kay praises Olmsted's Emerald Necklace, Mike Dukakis discusses local government, Harry Ellis Dickson talks about the Boston POPS, Linda Barnes gets inside Brookline's literary life… The celebrities join many equally eloquent friends and neighbors with captivating stories of love, war, racism, rent control, urban development, presidential campaigns, great delicatessens, beloved bookstores—all the great and small facets of life, of Brookline, of America.
More than 100 images are included. Antique sketches and historic photographs capture familiar scenes as they appeared many years ago, helping to enliven the historical context for this portrait of Brookline today. Photographs of each of the book's subjects bring their diverse personalities and voices to life.