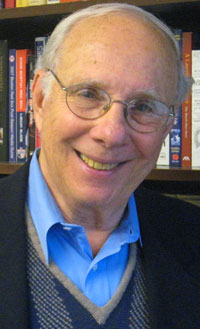 Photographs of Larry Ruttman are licensed under a Creative Commons Attribution-NoDerivatives 4.0 International License.
---
Copyright © 2005, 2006, 2011 by Lawrence A. Ruttman. All rights reserved.
by Larry Ruttman
About the Author
---
Larry Ruttman has lived in Brookline since the age of two, and this book is an expression of his deep involvement in and love for the town and its people. He produces the show "From Community to Cyberspace," aired on Brookline Access Television. Most of his stories in Voices of Brookline got their start on the set of that show, and some first appeared in his column "Brookline Then and Now," which was published in the Brookline Tab. Larry graduated from the Edward Devotion School and Brookline High School and took a B.A. in English at the University of Massachusetts and a Juris Doctor at Boston College Law School. He continues to practice law in Brookline, where he lives with his wife, Lois.
Larry Ruttman's second book, American Jews and America's Game: Voices of a Growing Legacy in Baseball, was published by the University of Nebraska Press in April 2013.