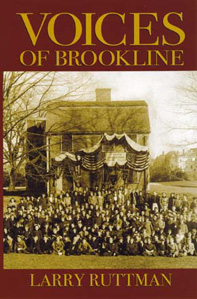 ---
Copyright © 2005, 2006 by Lawrence A. Ruttman. All rights reserved.
by Larry Ruttman
---
The following review was published in The Jewish Advocate on December 2, 2005. It is reprinted by permission of The Jewish Advocate.
Author Has Finger on the Pulse of Brookline
by Rona Trachtenberg
Timing is everything. Larry Ruttman, a 74-year-old attorney-turned-journalist-photographer, has just published a perfect birthday gift for his town's tercentenary—a compilation of 75 individual stories entitled Voices of Brookline.
As a lover of history and biography, Ruttman could think of no better way to capture Brookline's existence over the past 75 years than by having its citizens tell their stories.
Make no mistake—this is not an elitist Who's Who directory. You will read about the local watchmaker, librarian, singer, chef, teacher and tailor. But the author also introduces prominent Brookline figures such as Mike Wallace and Michael Dukakis—the latter having written a glowing four-page foreword in the book.
Ruttman's research unearthed antiquarian pictures that help the reader visualize Brookline's progress. The 528-page volume is divided into 16 sections. Topics range from family and immigrants to musicians and clubs. There are representatives of the four P's—politics, preservation, public service and professionals. Readers will be enticed by Shakespeare, sex and baseball. And there are even two poignant stories about dogs.
Using the table of contents as a menu, readers can choose the order of stories they want to read based on personal preferences. Each story stands on its own. Combining all these vignettes, however, this reader came away with the message that Brookline is a microcosm of democracy that operates in a less divisive manner than the rest of America, as evidenced by the fact that the Republicans and the Democrats get along, and have for a long time.
This book can be a manual on how a successful small town should be modeled. The new leaders of the free and Democratic Iraq would be well advised to read this book and take notes on how their nation should be crafted.
From entertaining and serious historical threads, we are treated to a treatise on a town filled with a high level of educational excellence and community commitment and participation. This is accomplished with the tools of a Town Meeting, a quality and diversity of citizenry and patriotic passion.
There is a large number of Jewish residents from Brookline who have distinguished themselves. Ruttman acknowledges 35 of these individuals, from Ethel Weiss, who at 90 still runs Irving's Toy and Card Shop, to Deborah Goldberg, who aspires to be Lt. Governor in 2006.
After reading this book, readers will feel like they have personally met some of them, such as: Ellen Goodman, Susan Maze-Rothstein, Ruth Shapiro, Regina and Edward J. Barshak, Ellsworth "Al" Rosen, Barbara Yona Soifer, Margot Stern Strom, Martin Sleeper, Dr. Robert "Bob" Weintraub, Paul Epstein, Melvin "Mel" Wolf, Dr. Robert I. Sperber, Sumner Z. Kaplan, Bernard "Bunny" Solomon, Roger and Arlene Stern and Robert K. Kraft.
Now, when I drive an hour north to shop at the Butcherie, I will have an even deeper appreciation for Brookline. And I have Ruttman to thank.
The author accepts the compliment but is quick to respond that his motivation for devoting almost five years to creating this opus was, "To give back to the community. Brookline is a great place to live, where people actively participate. There is a lot of giving back in Brookline. Although we are like any Hometown, USA, with ordinary people, we are a bit special, because many people here do unique and important things."
Ruttman attributes part of the uniqueness to location. "We are a small town enclosed on three sides by a large city. Brookline resisted annexation by Boston all through the 19th century. It is an enclave within the Boston surroundings. Maybe that is why we all unite to protect such a valuable resource. I wanted to portray the town in the best way possible and show how very involved we all are. I wanted to capture the essence of each person's life and their place in Brookline and the world. I am not sure, but perhaps no other book has been written in this manner."